Throughout the difficult times of Covid restrictions, our gardens have been a great source of solace and balance. Now, with the darkness of war entering Europe, we can keep grounded by caring for our plants, growing our crops and appreciating the beauty of nature. The days are getting longer and bulbs are starting to bring colour to our gardens – Spring is on it's way!
Our theme for this year is Gardening in a Changing Climate – global warming is not just about getting hotter and drier it seems, as last year was certainly challenging with a hard frost in late April and an overall much damper summer than we are used to. What can we as gardeners do to reduce our carbon footprint, help our gardens be more resilient, reduce our use of finite resources, and encourage bio-diversity? Over the course of this year, we aim to answer those questions. We have already started with our talks on "Composting" and "Low Maintenance Gardening".
There is a lot more in the programme than we were able to fit into the printed edition, but you will find our website* has the latest information, and we will keep you updated with what we are proposing through this newsletter and at our meetings.
We all enjoy getting inspired by going on visits to gardens and nurseries, so there are going to be a number of outings over the coming months, some repeat visits and some to gardens that are new to us. Where possible we will include lunch or afternoon tea at a nearby restaurant.
We are also keen to continue expanding our practical skills with workshops and opportunities to share gardening activities together – see more below about our expanded Ground Force as well as our ongoing maintenance of the sensory garden at La Medièvale Argentée.
Next Meeting
Our next meeting is on Tuesday 8th March at 14h, Salle Amanda Mills in the Salle de l'Eveillé, Lauzerte. Caroline and Paul Wright (RHS trained) of Le Jardin Creatif will cover using sculpture and focal points to enhance your garden (in English). Find out more about Le Jardin Creatif, and place plant orders on their website*.
I will be reminding everyone about our Photography Competition and showing you how to upload photos to our Facebook albums. There will be a Sundries table (get your pots and labels), and Refreshments as usual. Health pass required and masks to be worn please.
The following day, 9th March, Caroline & Paul will hold a Metal Sculpture Workshop, creating 3 Alliums. Your place must be booked and paid for in advance (35€), so please contact immediately if you would like to take one of the last remaining places.
Previous Meeting
On February 8th, we held our AGM.
To start with, Tim Barton gave us an informative and inspiring talk on Low Maintenance Gardening. You can view the presentation in PDF format* (download from Dropbox), or watch the presentation* which was recorded over Zoom (on YouTube). Some important messages about the use of mulch, and choosing the right plants. If you want to learn more, here are a couple of recommended links:
More information about No Dig*
More information about Mulch*
We then had the Presidents Report and the Financial Report.
You can view or download the AGM presentation* in PDF format (on Dropbox).
We achieved a lot in 2021, despite the restrictions, holding monthly meetings over Zoom, and then later, visiting a number of gardens, both private and public. We held workshops on seed sowing, taking cuttings and dividing perennials. We were present at several local events, and held our first Vide Jardin. Our final meeting of the year was a wonderful festive occasion, featuring all the winning photos from our Calendar Competition, and a workshop on creating a Christmas Wreath with Isabelle Durand.
Recent events
We kicked off the year with a delicious meal at Le Caillau. We hope to go back for afternoon tea later this year – do you have any suggestions for nurseries or gardens to visit that are not too far from Vire sur Lot?
For our January meeting, Marjolaine from local association Les Rainettes des Prés talked about Composting (in French). Composting is an essential technique for recycling garden and kitchen waste and improving our soil, giving nutrients to plants and helping to retain moisture.
Then Susan Lambert introduced us to the Open Gardens scheme*. Click on the link to learn more, to join the association and to find gardens to visit.
We have already had 2 really popular workshops, the first with Lorraine Turnbull on Fruit tree pruning, which took place in member's gardens on a very cold and foggy January day. This was a great confidence booster.
Then in February we had 2 sessions with Richard Marple on pruning roses.
This has encouraged our members to deal with overgrown climbers and shrub roses with consideration of the principles of light, competition and sap.
We are looking forward to seeing photos of the abundant blooms to come!
Some of us put our skills into practice in the gardens of the Maison de Retraite last Friday, when we had our first gardening session of this year.
Coming Soon
A visit to Kate Bewick's garden near Roquecor on Friday 18th March at 14:30. See the email from Edwina with more information and please let her know if you are planning on going, we would like to encourage car sharing where possible.
If you would like to Improve your Photography, sign up for our full day workshop with Graham Berry. This will take place in Belinda's garden (in Rouillac, to the south of Montcuq) when the weather is a bit warmer. Bring a picnic lunch to share.
Our meeting on Tuesday 12th April will be with our member Christine Jones, who will be demonstrating "Flower Arranging".
Also in April, we will hold a cuttings workshop in Liz Mitchell's garden (date to be arranged).
On Easter Sunday, April 17th, it is the Place aux Fleurs in Lauzerte, where we will have a stand, and we will be sharing ideas for recycling in the garden. Please put this date in your diary as not only is it a good opportunity for plant shopping, but we need volunteers to help spread the word about our club and our activities. You can sign up to help out at our next meeting, or if you have ticked the box to help out at events, Ingrid (*) may be in touch to put you on the rota.
Finance
Our balance sheet is healthy, with an increase of €270 over 2020, mainly thanks to an influx of new members. The Vide Jardin in June helped to subsidise our coach trip in July to Jardin de Martels, and the sale of calendars covered the costs of our December 4th event. Thanks to Keith Macfarlane for auditing the accounts.
Publicity
You can read our recent article in Le Petit Lauzertin, which is delivered to residents of Lauzerte, but is also available online*.
If you are a user of Intra Muros, you should now get reminders about our monthly meetings and other events. Download the IntraMuros app* here.
Membership
Our subscription fee remains at 10€ per annum. If you haven't already renewed, you can complete your application online and either pay at our next meeting, send a cheque to our treasurer, or pay by virement. Anyone who has not renewed by the end of April will be removed from our mailing list and Facebook group, so if you can't come to our meetings before then, please contact Tracy, our membership secretary at "> * to make sure you don't miss out.
Over the past 2 years we have had over 35 new members, so that's a lot of new faces to recognise, and we have started using name badges at meetings to help us get to know each other.
There are over 60 members on the Facebook group and we hope everyone will share what is happening in your gardens and what your particular areas of interest are.
Also, join in with our Photography competition – more on that below.
Ground Force
Our Ground Force initiative been relaunched with an expanded remit, to include mini-makeovers, advice, pre-visit tidy-ups and knowledge-sharing, as well as short term support. A session would take up to 6 volunteers about 2 hours to tackle. If you have a project or would like to join the volunteers please contact our co-ordinator on a new email address *.
Pick up a leaflet at our next meeting.
Maison de Retraite / La Medièvale Argentée
A new plan for the planting of the raised beds has been created, to help fill the gaps, balance out the growth and better meet our objective of having a sensory garden.
This will require a number of herbs and other plants, and we would love to have donations of plants that do well in your gardens.
So if you are going to lift and divide some of your star performers, please pot them up and grow them on for us. We are particularly looking for plants that will tumble over the sides, well behaved climbing plants for the pergola and low maintenance perennials or low growing shrubs and herbs that fit the colour schemes for the sun and moon gardens that are adjacent. Please let Julia know if you think you may have suitable plants. Any that can't be used here could be sold at our Vide Jardin in June – but they do need to be well rooted.
Photography Competition 2022
We need your entries! Now is a fabulous time to capture images for some of our themes – Bulbs, Flowering Trees, Wildlife, Containers, for instance, and of course Garden Decorations – so when you have made your Alliums, we want to see them in situ! As for Colour, show your solidarity with Ukraine by sharing Blue and Yellow from your garden.
Here is a reminder of all the different categories, which can be added to at any time until the end of September :-
Bulbs
Flowering Trees
Garden Decorations
Flower Arrangement
Wildlife in the Garden
Climbing and Trailing plants
Garden Produce
Water in the Garden
Dry Garden / Plants
Leaves
Containers
Colour Themes
You can add photos directly to the Albums on our Facebook Group. If you don't use Facebook you can just send me an email* to let me know you have photos to share and I will send you a link so that you can easily add them to Google Photos or Dropbox.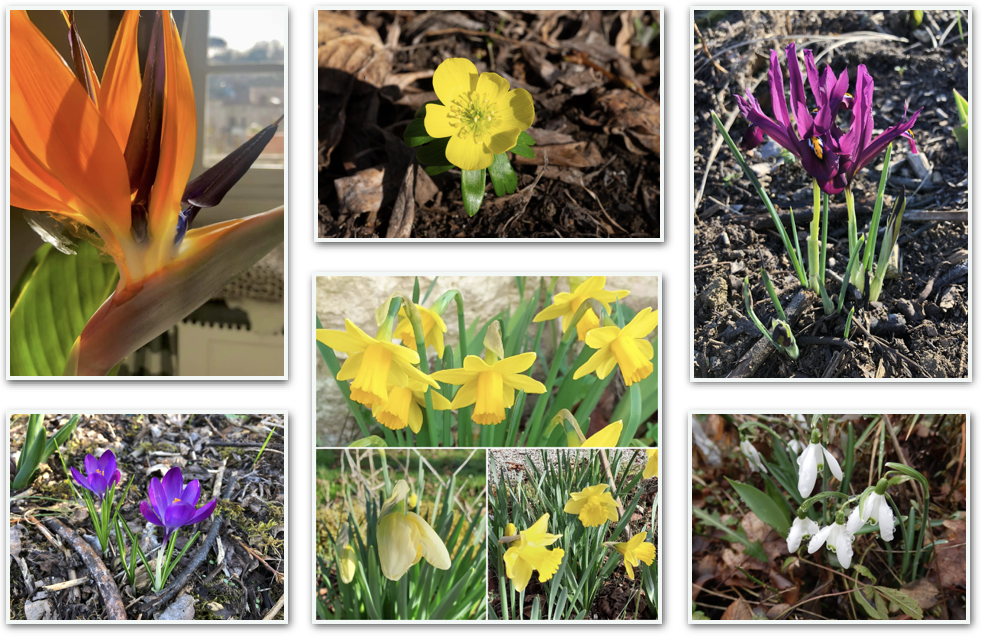 To Do This Month
Lots to do in the garden this month! Now is a good time to lift and divide overgrown clumps of perennials – please look at growing on plants for our Vide Jardin in June, or for the raised beds in the MdR garden.
Tidy up perennials which should be showing new growth, cut back grasses to near ground level, prune shrubs once they have finished flowering, clear away dead growth, feed roses, apply mulch. With spring-flowering bulbs, nip off any developing seedheads, but leave the foliage to die back naturally. Bulbs in pots that have finished flowering can be planted out in the garden. This is a good time to plant any shrubs and roses, if you didn't get them planted in the autumn.
In the veg garden, sowing commences in earnest now, both under cover and outdoors, so it is time to prepare beds for planting. Early potatoes can go in later this month (18th – 20th according to the lunar calendar) and also shallots and onion sets. The 25th and 26th will be good for sowing peas and broad beans direct in the soil, and 27th and 28th for carrots.
Share your news
Please continue to share all the news from your gardens, interesting information, places to visit and so on, with us on our Facebook group and check out our Instagram feed @cjl_82 or find us with the hashtag #cjl82fr. We are looking at expanding some areas of our website to share more information too, for those who don't use social media.
We hope to see you on Tuesday 8th. Meanwhile, enjoy your garden!
xx
Belinda